"Soon after the village was declared unsafe, the Durable Solutions team arrived to the village…"
Asmita Thapa Chhetri, 30-years-old, lives with her husband and two children in Uttargaya Rural Municipality of Rasuwa district. Her family owned 2 ropanis of farm land and 10 annas of kitchen garden. Grain and other crops produced on her farm was not enough to feed her household for even six months. Asmita's husband Tara Bahadur Thapa Chhetri worked abroad for four years for additional income. Sometimes he worked in Malaysia, sometimes in Saudi Arabia. Asmita used the money he sent back to take care of her house and to educate her children. In addition, she worked on other people's land, earning NPR 25,000 to 30,000 annually by cultivating potatoes. Thus, her livelihood was going on.
The earthquake of 25 April and 28 May destroyed her home. Everything in the house was damaged. Asmita says, "I stayed in a tent with my two children for some time after the earthquake and moved to my mother's house for a year. After that, we made a temporary shelter in the place where we used to live." She adds with tears in her eyes, "On 7 July, a landslide occurred near the house and swept away all our land."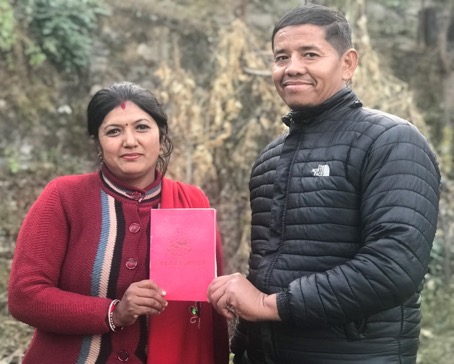 The landslides displaced all surrounding villages, including Asmita's. "After the landslide, we stayed in the hydropower building in Shanti Bazaar of Nuwakot district for some time. We returned to our own village after not being able to live there all the time. During both the earthquake and landslide disasters, various associations and organizations provided food, clothes, blankets, and CGI sheets," she added.
The National Reconstruction Authority's (NRA) geologists assessed the village and concluded that the village should be relocated to another place as it was not safe to live there. Asmita and her family moved to their second temporary shelter on a Birta land, away from the landslide. "Soon after the village was declared unsafe, the Durable Solutions team arrived to the village and informed us that the NRA would provide a NPR 200,000 grant to displaced families to purchase land in a safer place. After orientation and facilitation by Durable Solutions team, my family along with four other families bought 4/4 anna land."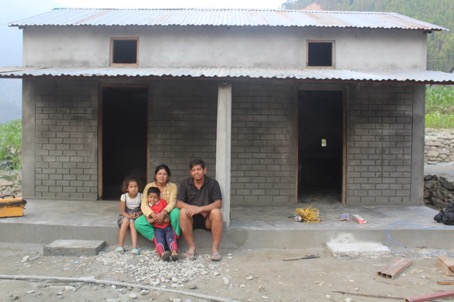 "Now I have built a two-room house on this land. So far, it has cost NPR 600,000 to build a house of which NPR 300,000 was from the NRA. The remaining NPR 300,000 are loans yet to be paid. Life here in this new place is very hard. It is impossible to repay our debt unless my husband goes abroad. So, I am planning to send him abroad again," says Asmita.
Author: Som Maya Tamang, CSRC Nepal